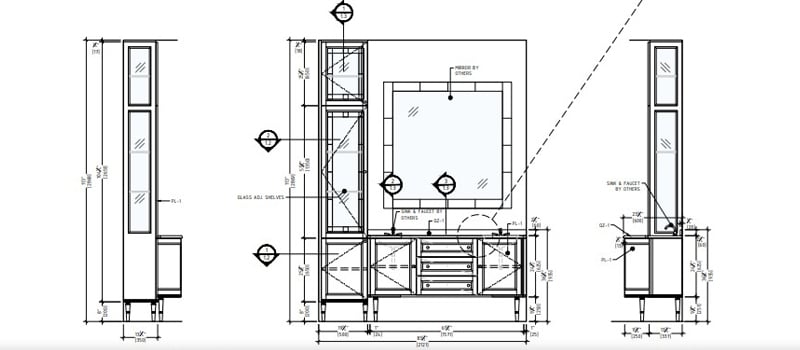 Shop drawings are valuable for any type of manufacturing work as they provide the most accurate engineering information. This type of drafting includes different plans and views, all of which can help to make workflow flawless and effective in their own way.
ArchiCGI draftsmen got a brief for a project that required detailed shop drawings of a bathroom vanity. A millwork company asked for clean and accurate drafts that can be used as the only guiding source for furniture manufacturers. They had tight deadlines and wanted the production process to be as smooth as possible. Our specialists used clients' sketches and dimensions as references and made high-quality millwork drawings with all necessary information that could be useful for constructing the bathroom vanity. It turned out to be the indispensable part of the manufacturing process which allowed millworkers to make the furniture for a bathroom exactly as they planned and without any errors.
In order to help millwork specialists make their working process accurate and effective, we will share our knowledge about drawing services. Learn what shop drawings are and how they are made based on the real millwork case of our company.
#1. Field Dimensions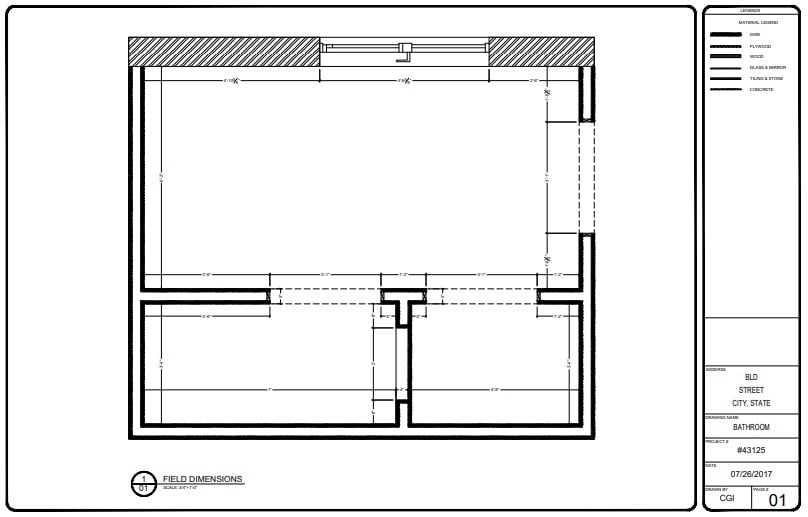 Field dimensions are necessary to accurately determine the parameters of the future millwork objects in accordance with the size of the room it will be put in. This kind of shop drawings helps to calculate doors width or wall niche depth and make sure the furniture will fit in. It's essential for small rooms where calculation errors can lead to cluttered space and nonfunctional furniture layout.  
Since the space in a bathroom is limited, it is very important that furniture fit into the room without interfering. In our case, shop drawings were created for a bathroom vanity with a sink and a mirror so our field dimensions looked like a schematic top view plan of the room. The bathroom field dimensions of our project included general room size, wall thickness, and construction materials. Thanks to it, millwork specialists could decide on perfect parameters for the bathroom vanity.
#2. Plan View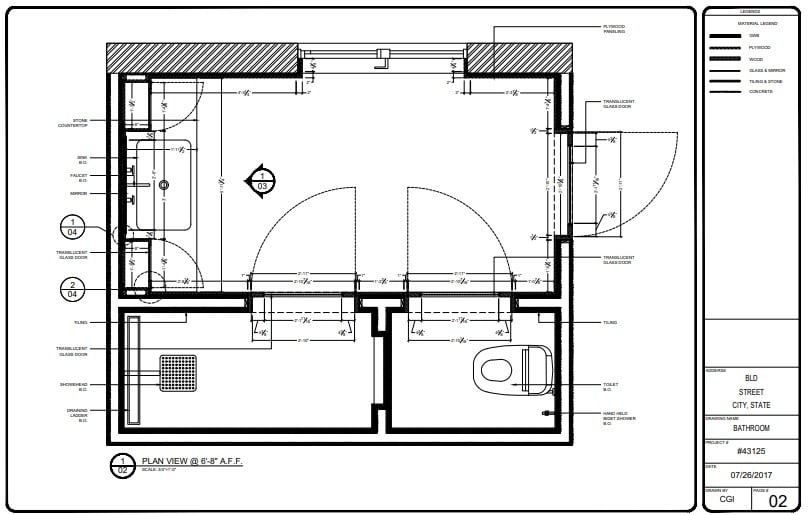 Plan View conveys the dimensions and parameters of all objects in a room, their geometric shapes and layout. If Field Dimensions are focused on the room dimensions, Plan Views show everything that is in it. This type of shop drawings include information on every object's parameters as well as furniture layout. There are also included materials of finishing and names of household appliances.
In these shop drawings for a bathroom vanity, Plan View clearly depicted not only the main subject but also the rest of the objects and their placement in the room. Millwork specialists were able to see accurate parameters of fixtures and furniture and understand the right location for the bathroom vanity. This view is vital not only for the making of the vanity, but also for the installation process of the item in the room.
Need top-notch CAD drafting services? We'll take care of drawings creation, digitalization, BIM and Revit modeling.
#3. Elevation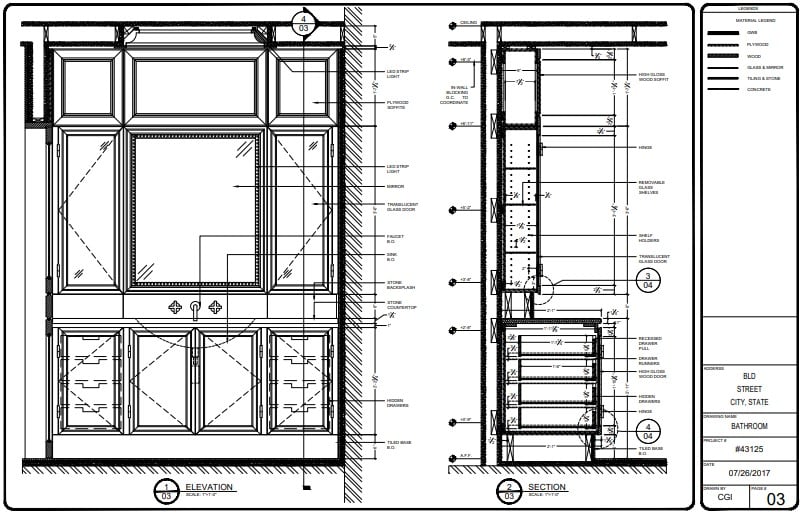 Elevation depicts a subject from several angles: usually front elevation, left and right side elevations. This kind of shop drawings includes the exact dimensions of the object, the names of its components, as well as the materials that will be used for its creation. Moreover, shop drawing elevation can be at different scales for general parameters of an object and more detailed measurements of it parts.  
In our shop drawings for the bathroom vanity, there are all three views of elevation in two scales – 1″=1′-0″ and 1/2″=1′-0″. The draftsmen added the names of each part of this millwork configuration as well as all the types of materials that will be used. On top of that, every millwork CAD drawing element has its own indicational icon in the legend of project drafts.
#4. Plan Section
Most millwork objects consist of many parts and each of them must be recreated as accurately as possible in shop drawings. This plan depicts each of the section in detail and from different angles – such as vertical, horizontal, cut or top view. Besides, section drawings are very important from engineering point of view as they show constructions of objects.
In our project, there are plan sections for every part of the bathroom vanity – sink and its siphon, a mirror, drawers, cabinets and so on. Each section view in the shop drawings is made from a few angles. Millwork specialists were able to see construction details of the bathroom vanity with specific dimensions and even brands of materials.
#5. Detail
Detail shop drawings depict the smallest elements of millwork objects in order to illustrate how they fit together. The special feature of this type of drafts is that it's made at enlarged scale for thorough study. Detail drawings often include small engineering components such as mounts or sliding gears which is vital for manufacturing process.
In our project shop drawings, details were done for fastening mechanisms of drawers, cabinets' doors and a mirror. The other subject of detail view is the legs of the bathroom's vanity. Thanks to it, millwork specialists were able to recreate design and construction of the legs based on their accurate dimensions.
Shop drawings are the most accurate and thorough plans for any construction or manufacturing project. In the case of millwork, they provide the exact parameters and dimensions of objects, their layout, the depiction of materials and engineering details etc. On top of that, high-quality millwork shop drawings can replace everything a Manufacturer needs in order to create his product. Our example of drawings for bathroom furniture is solid proof as they gave all the engineering information that was required for making the stylish bathroom vanity.
Wonder how much high-quality drafting services cost? Check out the examples of our real projects with pricing.
Want to create millwork items precisely and effectively? Use ArchiCGI drafting services and get detailed high-quality shop drawings for your projects.
https://drawings.archicgi.com/wp-content/uploads/2019/02/shop-drawings-5-key-types-for-furniture-manufacturing-Preview.jpg
177
364
vysotskaya
https://drawings.archicgi.com/wp-content/uploads/2020/04/archicgi-logotype-white-e1586786914130.png
vysotskaya
2019-02-18 17:30:59
2020-04-17 10:15:14
SHOP DRAWINGS: 5 KEY TYPES FOR FURNITURE MANUFACTURING