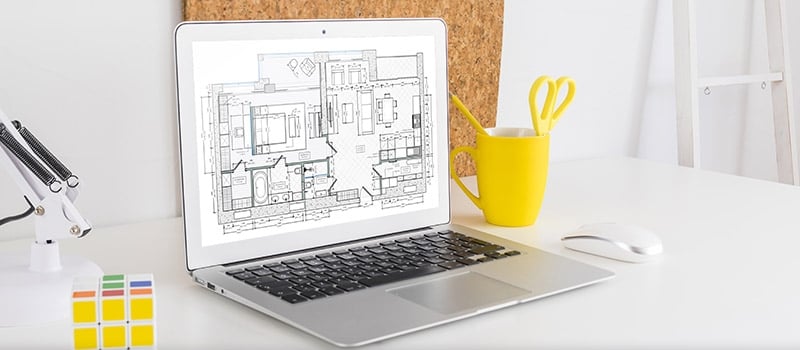 CAD design drawings provide the most accurate and valid information about a future interior project, which is essential for a presentation. With the help of high-quality digital drafts, Designers can show how well they've prepared in order to win clients' trust and their approval. 
An Interior Designer received an order for a large-scale project of a mansion design within the strict deadline. The task includes not only stylistic renovation but also a complete redevelopment of the inner structure of the real estate. The Designer has no idea how to demonstrate all technical solutions in a way that will be understandable for clients. Besides, the owners of the mansion have not yet decided on the contractor of interior design services and need to be convinced that they hire a professional who knows everything about house supply systems and construction. No sketches and 3D visualization will show the whole technical foundation of the project as accurate and detailed as the Designer would like. 
An experienced CAD company can provide the visual materials that will not only be precise but very self-explanatory in clients' eyes. Learn how 2D design drawings can make a project presentation go smoothly and successfully.  
#1. CAD Design Drawings Provide Accurate Dimensions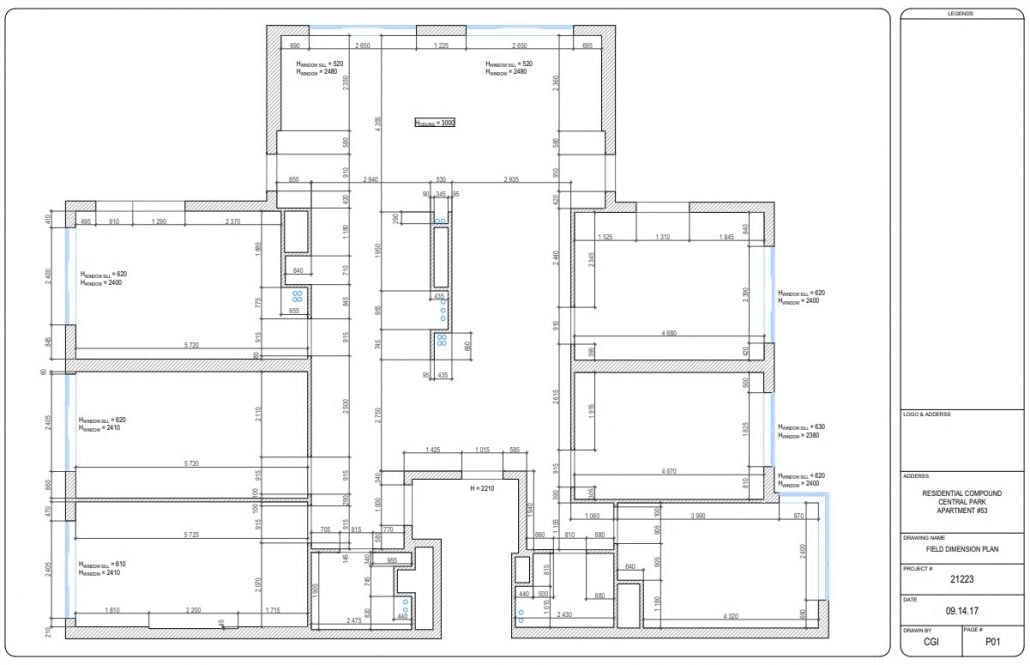 When demonstrating an interior project, the accuracy and factuality of the Designer's work are very important for convincing clients to trust their property in professional hands. That's where CAD design drawings come in handy as they provide the most detailed and objective information about construction and renovation plans. The drawings show all the dimensions and calculations accurately and in a clear way that makes everything understandable for non-professionals. By doing so, Interior Designers help their clients to have an understanding of project scale and complexity. 
#2. Interior Drawings Demonstrate Plans for Construction Works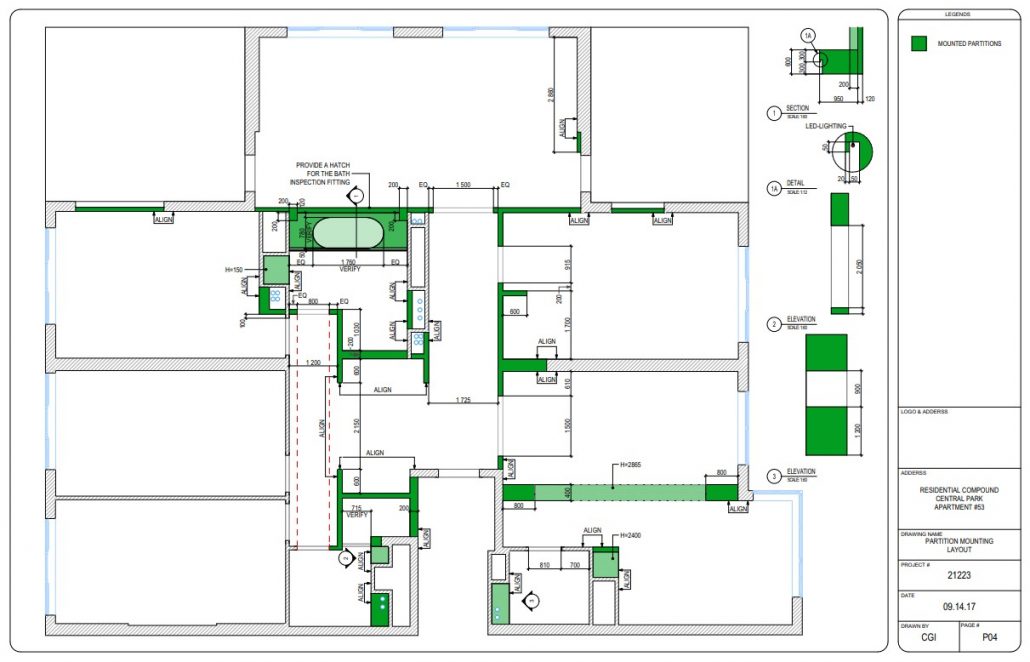 CAD design drawings are vital for demonstrating the inner structure of a dwelling and all planned changes for it. Such types of interior drafts as partition dismounting layout, partition mounting layout, and wall elevations indicate which parts of the structure will be demolished or where they will be built. This visual proof of construction plans at a presentation will ensure the owners of real estate that all redevelopment in a design project is well-thought-out and safe.  
Need top-notch CAD drafting services? We'll take care of drawings creation, digitalization, BIM and Revit modeling.
#3. CAD Design Drafts Showcase The Inner Work of All House Systems
The standard set of CAD interior drawings includes plans for all internal systems of a house or an apartment. Lighting, electricity, plumbing schedules allow Designers to demonstrate how a dwelling will function and whether everything is taken into account while preparing a project. Moreover, these technical CAD design drawings show all possible renovations of the home supply systems in detail, which will prove that a Designer knows what he's doing even before the beginning of the construction process. 
#4. CAD Drawings with Furniture Layout Shows Interior Design Solutions
Residential drawing services are also responsible for the technical visualization of all furniture, appliances, plumbing and other items inside a home. CAD furniture layout includes the schematic top-view of all items as well as their dimensions so that clients could better imagine how design ideas will be implemented. Of course, these drafts cannot be compared to realistic renderings in terms of showing the look of the design elements. However, they give homeowners a complete idea of where everything will be located or how different objects will fit inside a dwelling. 
#5. Interior Drafts Give a Full Idea about Inner Space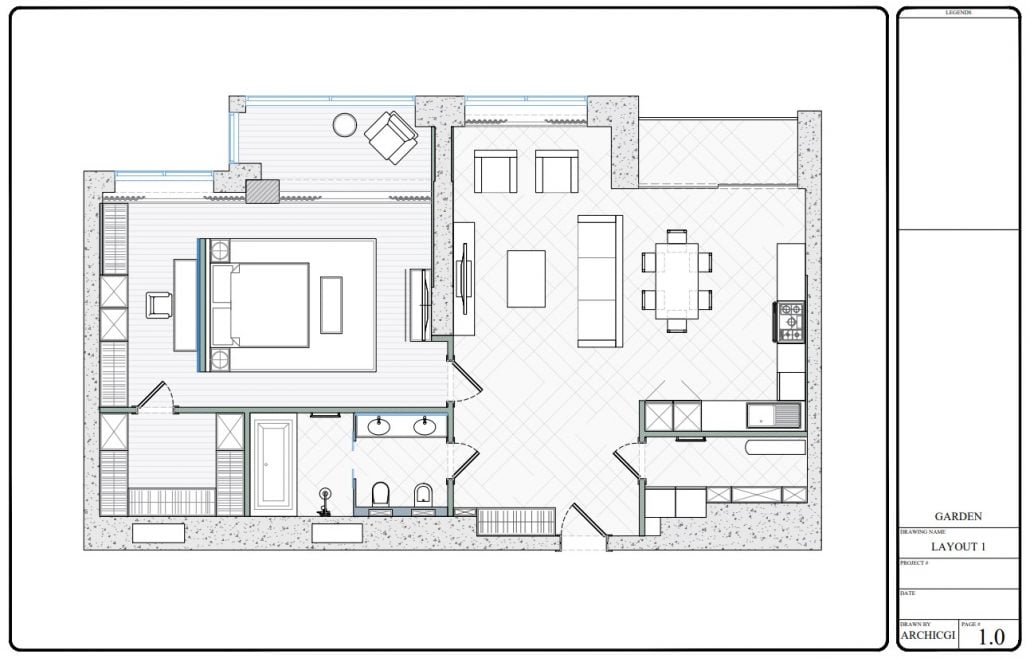 Since CAD design drawings depict the exact location and parameters of the housing and all its elements in a reduced scale, there is no better way to show exactly how the inner space will be used. Moreover, interior drafts display ceiling height, flooring area, even the dimensions of window and doors, which give details about the basic construction work. All this information will give clients a full comprehension of project stages as CAD drawings are much more factual than imprecise sketches or polished 3D renders.
CAD design drawings include all the necessary drafts for interior design projects that will help clients to understand the technical details of ideas at the presentation. Thanks to that, Designers not only demonstrate their creative solutions but also prove that they know how to make them work. Such proof of thorough preparations certainly amplifies trust to interior design contractors in the eyes of real estate owners. In addition, high-quality, detailed CAD design drawings help to convince clients that the project will run smoothly and in a well-organized manner, which will also incline them in favor of an Interior Designer.   
Wonder how much high-quality drafting services cost? Check out the examples of our real projects with pricing.
Want to receive clients' approval at each interior design project presentation? Use ArchiCGI drawing services and get all the necessary high-quality drafts that will enhance the demonstration of your renovation project.
https://drawings.archicgi.com/wp-content/uploads/2019/07/cad-design-drawings-at-presentations-preview1.jpg
177
364
vysotskaya
https://drawings.archicgi.com/wp-content/uploads/2020/04/archicgi-logotype-white-e1586786914130.png
vysotskaya
2019-07-31 16:30:44
2020-04-17 10:08:52
CAD DESIGN DRAWINGS: 5 WAYS THEY HELP AT PROJECT PRESENTATIONS