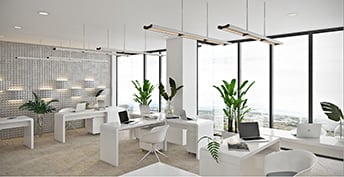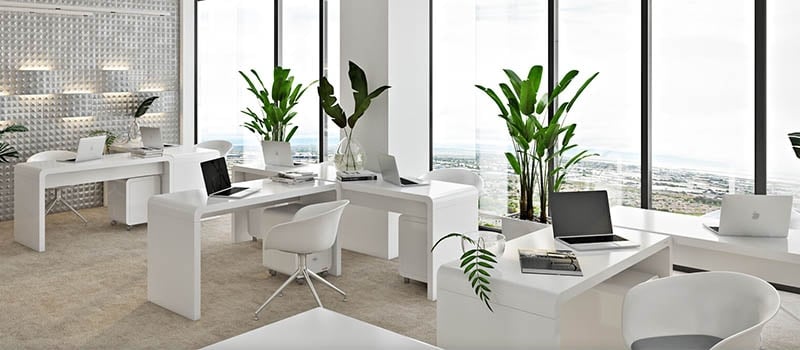 When working on an interior project, designers always strive to save time on design development. But the process of searching and selecting 3D models of construction elements and furniture always takes a lot of time and effort. In such cases, using Revit Family creation services, designers can get ready sets for any room and effectively save time on downloading and setting up each individual item.
Moreover, all ready 3D models in Revit are grouped in Families — completed packs of 3D objects with materials applied and accurate dimensions. This feature is especially convenient for construction and woodwork manufacturing — all 3D models in Revit can be easily transferred from 3D to 2D and printed as a drawing.
#1. Ordering Ready Revit Families Accelerates the Workflow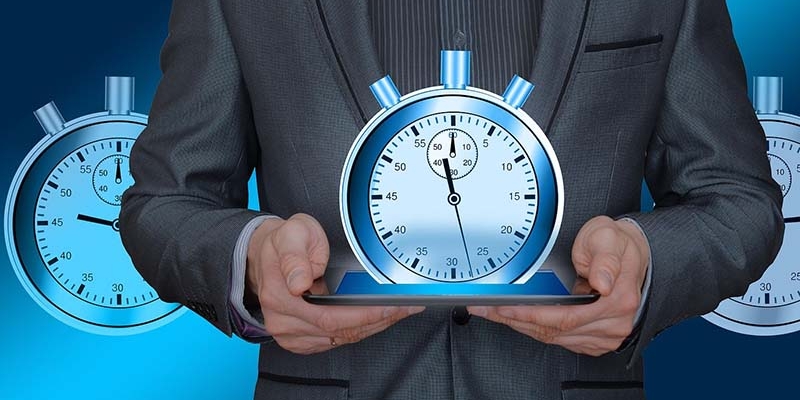 Using ready-made 3D items, designers can incredibly speed up the workflow. However, it's even faster to use an entire ready set, rather than downloading each 3D object separately. 
Moreover, 3D models in Revit Families are not just blank 3D objects that you still need to apply textures to. A Family is a ready-made kit with all the materials so designers don't have to spend time searching for Revit textures all over the Internet.
To install the ready-made Revit Family in the design project in progress is a matter of a few seconds — just a couple of clicks for adding the Family and one can immediately proceed to render. 
#2. Using Ready 3D Models in Revit Saves the Budget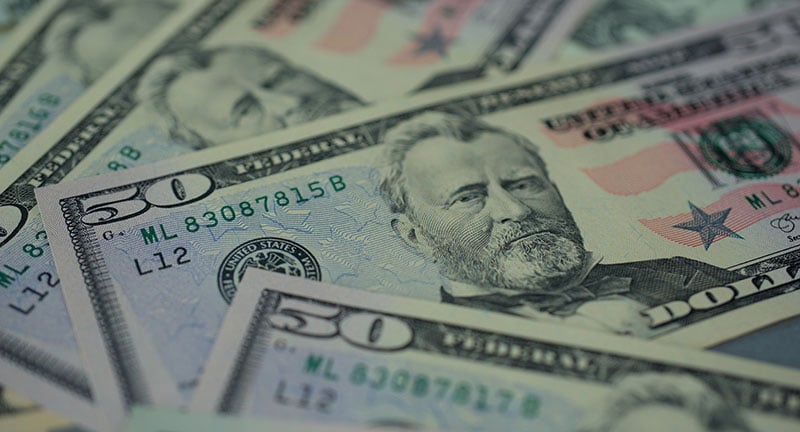 Obviously, downloading a ready-made 3D object is always cheaper than ordering a custom one, since 3D artists don't spend extra time and effort creating it. Well-reputed 3D studios have a large collection of their ready-made furniture 3D models and Revit Families, so designers just need to select the necessary set from the library. After 3D artists send the file, a designer can immediately use ready 3D models in Revit interior project without customizing them.
#3. Ready 3D Models in Revit Are of High-Quality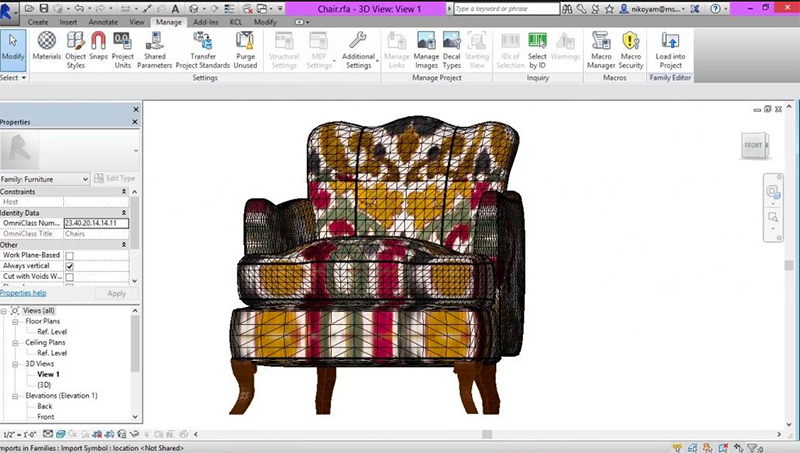 The quality of ready-made 3D models in Revit is as good as of the custom ones. A 3D object made by a professional 3D artist has all correct proportions that correspond to the dimensions of a real piece of furniture.
In addition, all textures of ready-made 3D items are also performed at the highest level. Autodesk Revit has its own huge library of top-quality textures so a designer can always choose the ones suitable for any interior.
Need top-notch CAD drafting services? We'll take care of drawings creation, digitalization, BIM and Revit modeling.
#4. Ready 3D Models in Revit are Easy to Modify and Adjust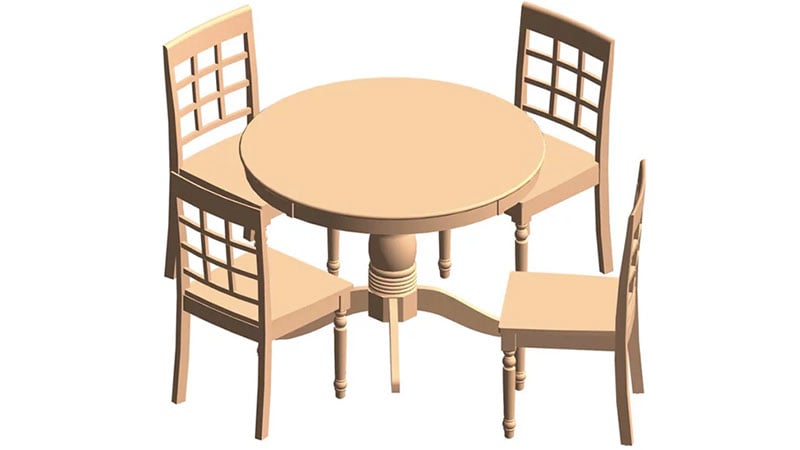 Choosing ready-made Revit Families, a designer can insert them into the project along with textures and all the settings without configuring anything additionally. 
However, if they need to make adjustments to all objects in a collection — let's say, change materials or dimensions — there's nothing faster and more convenient than a Revit Family modification. Since all objects of the Family are interconnected, the change of parameters of one 3D item is synchronized on the rest. Thus, editing only one piece, you can replace the texture or the proportions for all objects at once.
This amazing feature of 3D models in Revit Family allows designers to easily fit the furniture set to any room size without adjusting each object individually.
#5.  Revit 3D Models Libraries Have All the Most Popular Furniture Pieces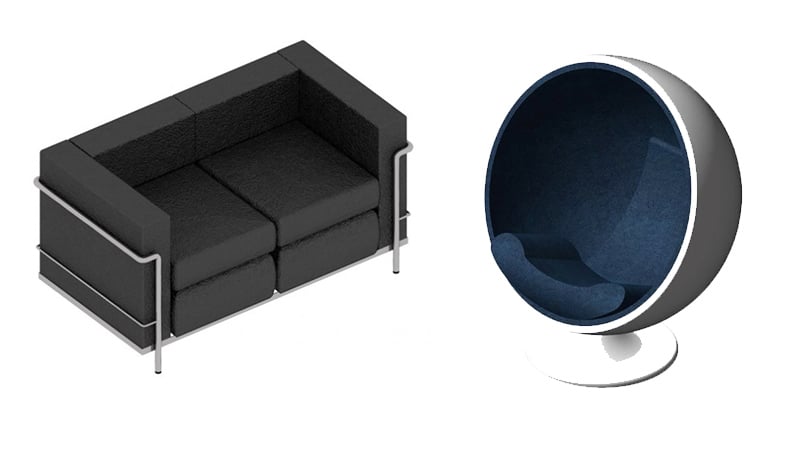 Professional 3D studios have been building their own libraries of BIM objects for years, so even the average 3D company can operate with more than 1000 3D models in Revit. Therefore, if a designer needs a popular furniture model, then, most likely, it's already in the studio database.
Moreover, far-sighted CG companies monitor all the latest design trends and constantly replenish their library with the most desirable furniture and decor pieces.
#6. 3D Models in Revit Families Include Architecture Elements, Furniture and Household Appliances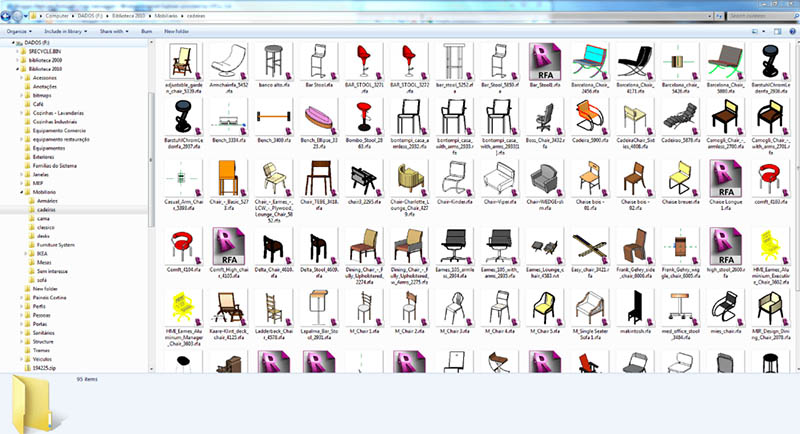 When working on an interior project in Revit, designers don't have to draw windows, doors, columns and other architectural elements — every object has a corresponding category or the Family. Thus, an architect or designer can select matching architectural objects from the huge Revit library to insert them into the project at once.
Interior designers also actively use Revit Families — ready-made furniture sets for kitchen, bathroom, living room, etc. With ready Families, a designer doesn't need to search for individual objects and spend time combining them together. In Revit Family, all pieces already work in a perfect ensemble.
Moreover, some manufacturers of sanitary fittings and household appliances also offer ready-made Revit models for download. Therefore, there's no need for interior designers to make them from scratch either — they can simply install these 3D models in Revit and complete kitchen and bathroom interiors.
#7. In Revit, It Is Possible to Transform Models From 3D to 2D Mode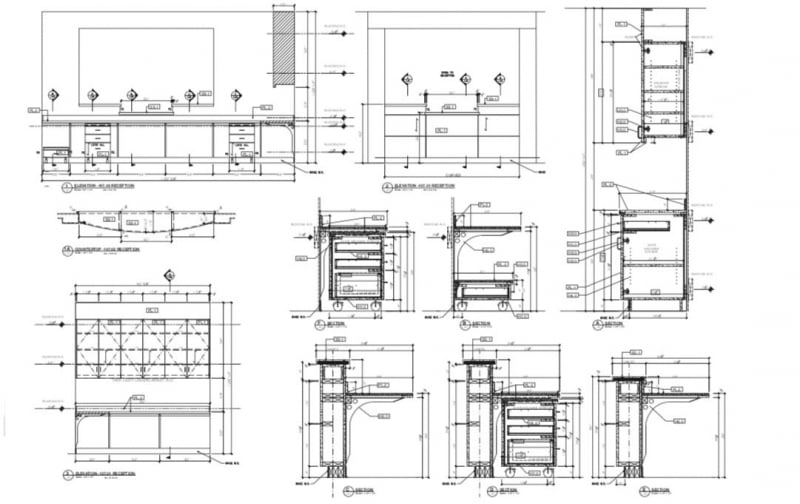 3D modeling in Revit helps manufacturers to get accurate blueprints for furniture production — and this can be also useful for interior designers. For example, a designer used the Family kitchen set in the project and a customer liked it so much that they want to get the exact kitchen furniture. 
Before Revit, designers have to spend time drawing it separately, but in Autodesk Revit Family Editor the entire structure is already built accordingly to all axes with precise dimensions. Therefore, a designer can simply transfer the 3D Family from the 3D model to the 2D drawing, and save the blueprint for furniture manufacturers in just two clicks.
To sum up, using ready-made 3D models, designers always save time and budget. Moreover, Revit Families simplify the work process even more so a designer can order a ready-made set with all the textures and furniture pieces put together and not pick every item separately. It allows specialists to insert a Family into the Revit interior design project in a couple of seconds and proceed straight to 3D rendering.
Wonder how much high-quality drafting services cost? Check out the examples of our real projects with pricing.
Need top-notch ready 3D models in Revit for your project? Contact us for Revit modeling services and we will provide you with high-quality Families at the earliest opportunity.
https://drawings.archicgi.com/wp-content/uploads/2020/03/3d-models-in-revit-ready-families-for-interior-design-View09.jpg
177
344
luzina
https://drawings.archicgi.com/wp-content/uploads/2020/04/archicgi-logotype-white-e1586786914130.png
luzina
2020-03-04 16:30:21
2020-04-17 09:58:01
3D MODELS IN REVIT: 7 REASONS TO USE READY FAMILIES IN INTERIOR DESIGN PROJECTS