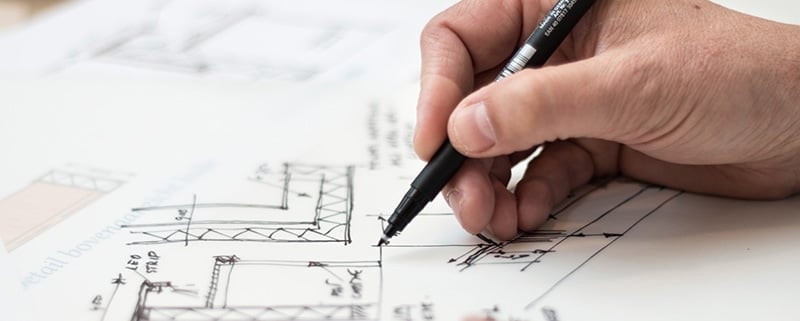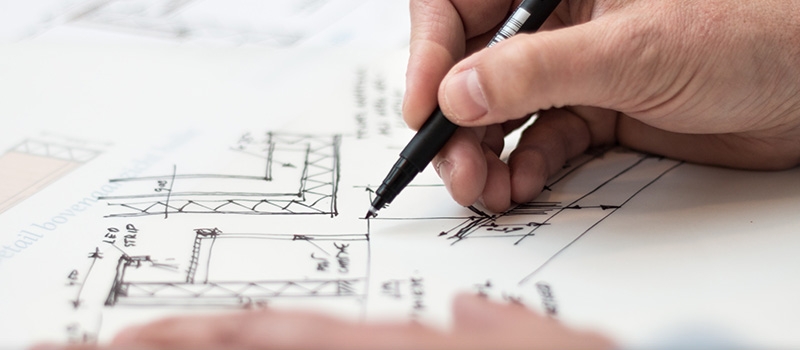 How exciting is our life now when CAD programs made real estate drawing easier and more convenient for architects and designers. You don't need to draw highly intricate plans by hand anymore — with CAD programs, drafting became more accurate and fast. Moreover, material calculations can be done automatically and error-free so the project budget is built competently and without the risks of unnecessary waste.
All you need to do in order to get precise drawings is to find a professional drafting engineer who has high job skills and extensive drafting experience. But before ordering drawings from specialists, architects need to figure out what type of drawings they might need for the construction or renovation of real estate. Of course, there can be many drafting sheets, depending on the complexity of the project, but let us introduce you to 5 pivotal real estate drawings that the project simply can't be executed without.
#1. Dimension Plan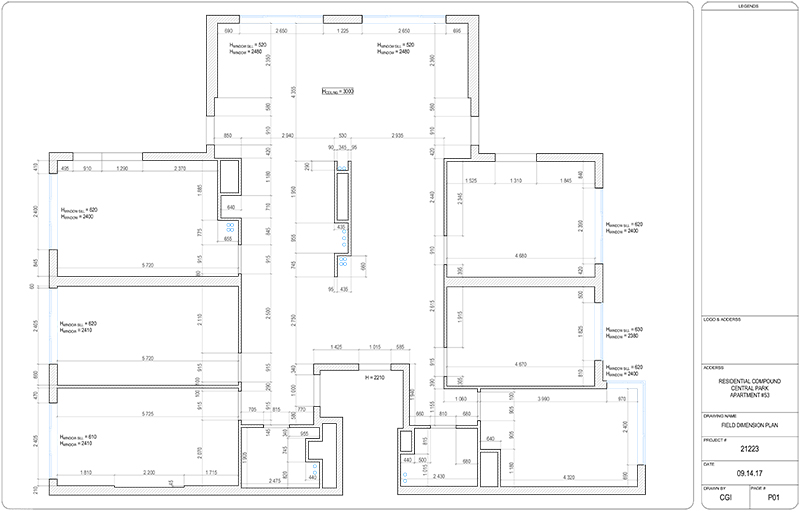 Before any construction and redevelopment starts, architects and designers need to see the existing layout to get the whole picture of real estate. A dimension plan is a basic drawing from which they build up a project. Specialists meticulously measure an entire property, then draw an accurate real estate scheme using all basic measurements and scaling.
Therefore, making a dimension layout is a very responsible job and even a tiny error in this drawing may lead to the following incorrect layouts. So when choosing a contractor for this work, architects and designers must find professional draftsmen who are also trained as engineers and have experience working in various complex projects.
#2. Dismantling/Mounting Layout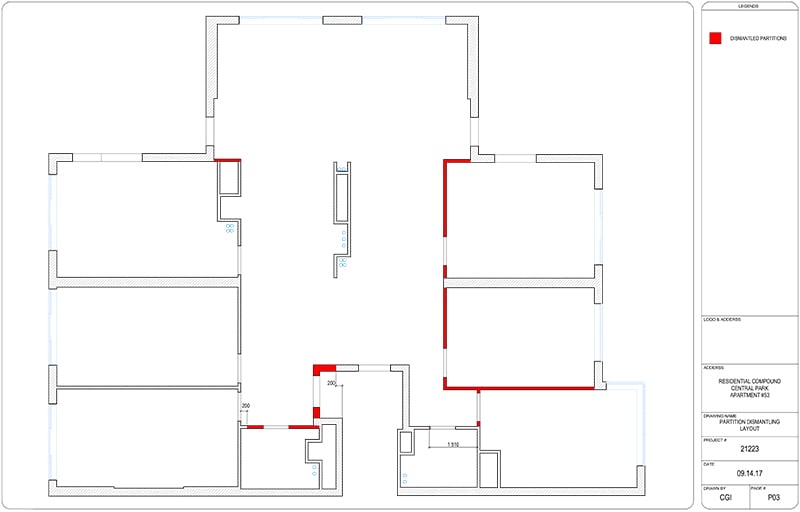 Based on the dimension real estate drawing, designers start to develop the living space. In case of redeveloping, this leads to tearing down walls and re-building new ones. Therefore, it's essential to mark all bearing walls on the drawing so builders won't demolish them and indicate others that should be torn down. 
Often, an interior project requires re-planning an entire zone. For example, sometimes you need to move a kitchen to another part of the house or separate the bathrooms. In such cases, these drawings will guide construction workers and minimize the risk of a mistake.
While working with a client, an architect or designer tries different types of replanning so that they can stick to the best option. In such cases, floor plans for real estate should be made efficiently and quickly. Thus, it's better to entrust this work to professionals.
Need top-notch CAD drafting services? We'll take care of drawings creation, digitalization, BIM and Revit modeling.
#3. Furniture Layout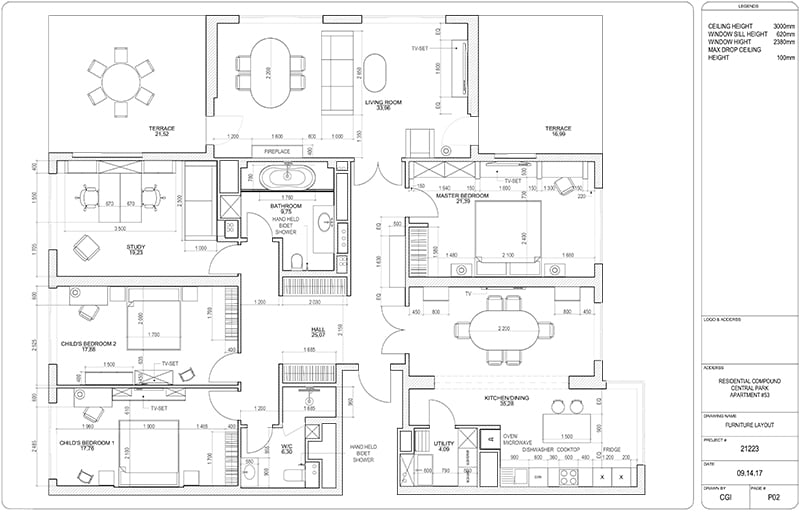 Looking at the furniture layout plan, clients finally start seeing not just lines and gaps, but a carefully arranged living space – because at this point a plan showcases all furnishings and equipment. Furniture layout allows evaluating how much you can fit in each room. Sometimes, it may become too empty or too cluttered so such a drawing helps make changes while still planning.
Also, a designer might need several furniture drawings for the same project – again, to find the most suitable combination and provide a client with different design options. After all, some people like to have many little things in their home, while others prefer less objects and more space.
A furniture real estate drawing is an important blueprint for any type of project because the location of all electrical appliances and plumbing system depends on it as well. And this takes us to the next point.
#4. Utility Systems Plans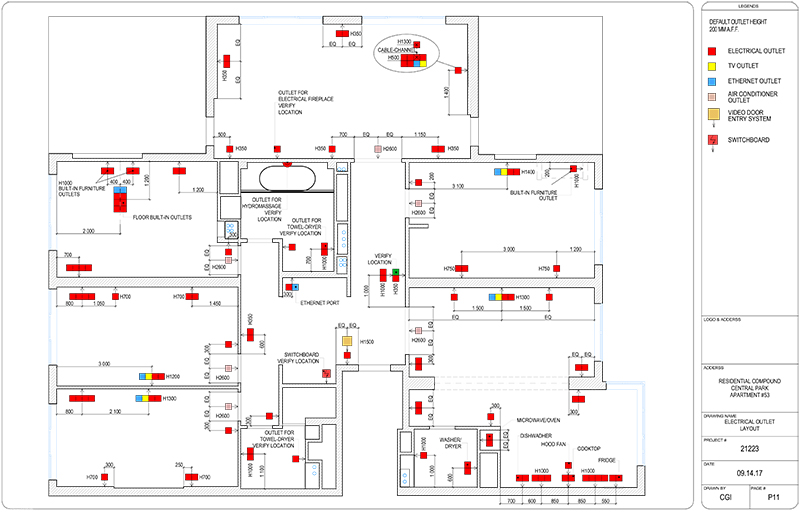 When developing a new real estate project, engineers carefully plan the electric network and water supply system for the whole property. It's vital to correctly execute this type of real estate drawing so house owners won't have problems with utilities in the future. 
A precise utility layout is especially important for renovation projects where a kitchen or bathrooms were replanned and transferred to another part of a house. In such cases, designers have to plan a new power supply for all main household appliances such as the refrigerator, stove, and dishwasher. As for the bathroom, architects and engineers have to recalculate the waterworks and re-do the entire water system.
Moreover, there are other utilities, such as ventilation, automated control system with all the controllers, sensors, etc. All these drawings usually go in separate drawing sheets for the convincing construction process. In general, the more detailed blueprints, the less refinement will be during the construction work.
Of course, even the small error in such a real estate drawing can lead to terrible consequences, such as overloading the electric network or improper drainage and water supply. Therefore, it's crucial to entrust this work to a drafting studio that has a team of trained draftsmen with an engineering background and plenty of experience.
#5. Wall Elevations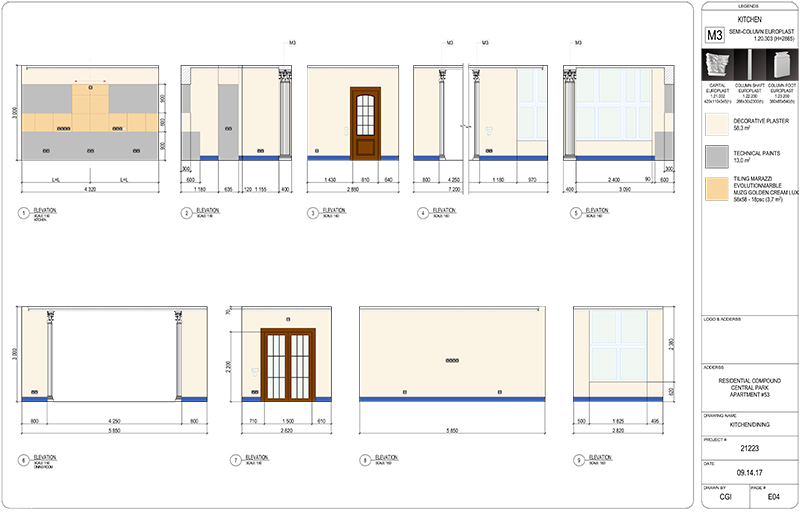 An accurate project execution requires showing the real estate drawing not only from above but in section. Wall elevations allow showcasing the walls, windows and doors — elements that are simply indistinguishable and look like mere lined on the floor plans. But obviously, to successfully estimate the height of the room, windows, doorways, arches and columns architects and clients need to see them in detail.
Moreover, wall decorations and finishing are also visible on the elevations sheets only. Therefore, having this type of real estate drawing, architects and designers can precisely calculate the tiles, wallpapers and mosaic coating. Also, wall elevations can be made in color so a client can imagine the whole real estate better than when looking at a plain floor plan with text descriptions of the wallpaper and tiles on the side.
Of course, there is a slew of other drawings necessary for construction — for example, we didn't mention flooring and ceiling blueprints. When the interior has a complex structured ceiling, then architects will need a separate drawing with a section cut so the ceiling profile can be seen in detail.
The same thing with the floor plan — a competent blueprint showcases floor coverings for real estate and helps to calculate all the materials before purchase. Also, draftsmen make separate drawing sheets for lighting and complex details such as columns or stucco moldings. In any case, all real estate drafting should be made by a studio of experts with years of experience and a good reputation behind them, so that the project execution can go flawlessly as possible. 
Wonder how much high-quality drafting services cost? Check out the examples of our real projects with pricing.
Need accurate real estate drawing? Contact us for any type of drafting services, and we will make drafts of any complexity at the highest professional level!
https://drawings.archicgi.com/wp-content/uploads/2020/02/real-estate-drawing-5-main-types-View07.jpg
401
800
luzina
https://drawings.archicgi.com/wp-content/uploads/2020/04/archicgi-logotype-white-e1586786914130.png
luzina
2020-02-20 16:30:36
2020-04-17 09:59:23
REAL ESTATE DRAWING: 5 PIVOTAL TYPES OF DRAFTS