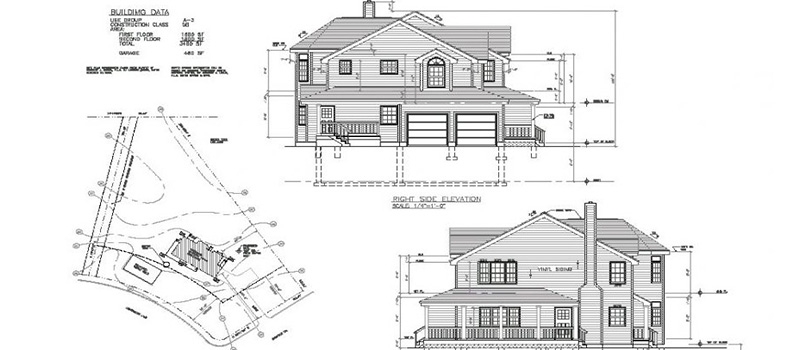 Architectural CAD drafting services are vital when it comes to quick and flawless developing of projects. 2D drafts not only offer all existing types of views but present them clearly and accuratelym, which is helpful at presentations.
An Architect received an order for a large-scale reconstruction of the building in a very short time. Unfortunately, clients gave him old blueprints from former owners of the property, which are hard to understand. In addition, the architectural specialist needs to calculate what construction work has to be organized for the implementation of the project and choosing the suitable contracting services. That's why clear and accurate versions of the architectural drawings are even more essential – they will help to explain what builders need to do effectively. 
A CAD company provides a wide range of drawing services that are visually understandable and effective for presenting project ideas. The detailing of digital drafts is especially handy when it comes to working with contractors who need a guide. Learn what types of 2D drawings architectural CAD drafting services offer and what's included in them. 
#1. Site Plan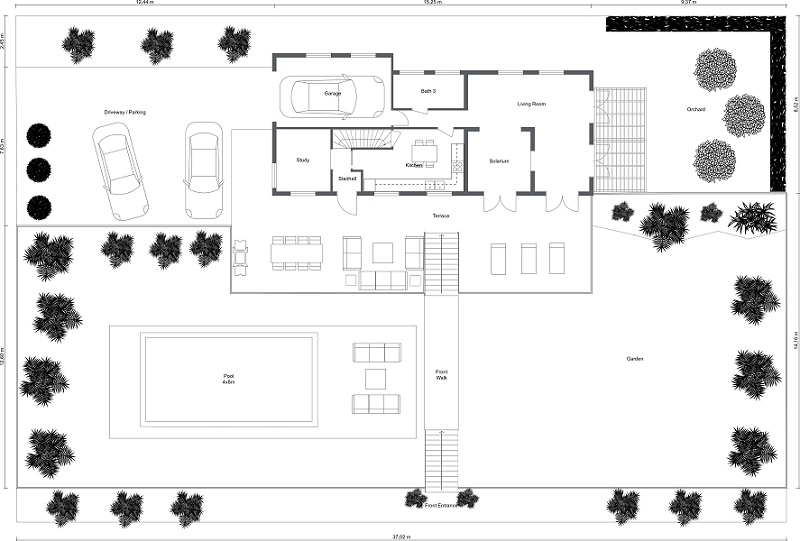 A site plan is a large-scale drafting of a building or group of buildings which shows the full context of the site. It is often supplemented with a location drawing which is essential for architectural applications. Usually, site plans include the main construction scheme as well as adjacent roads, parking lots, footpaths, landscaping, trees and planting, other details of environment and infrastructure. For the construction process, a site plan should also indicate all service connections: drainage and sewer lines, plumbing, electrical and communication cables, outdoor lighting, etc.
#2. Floor Plan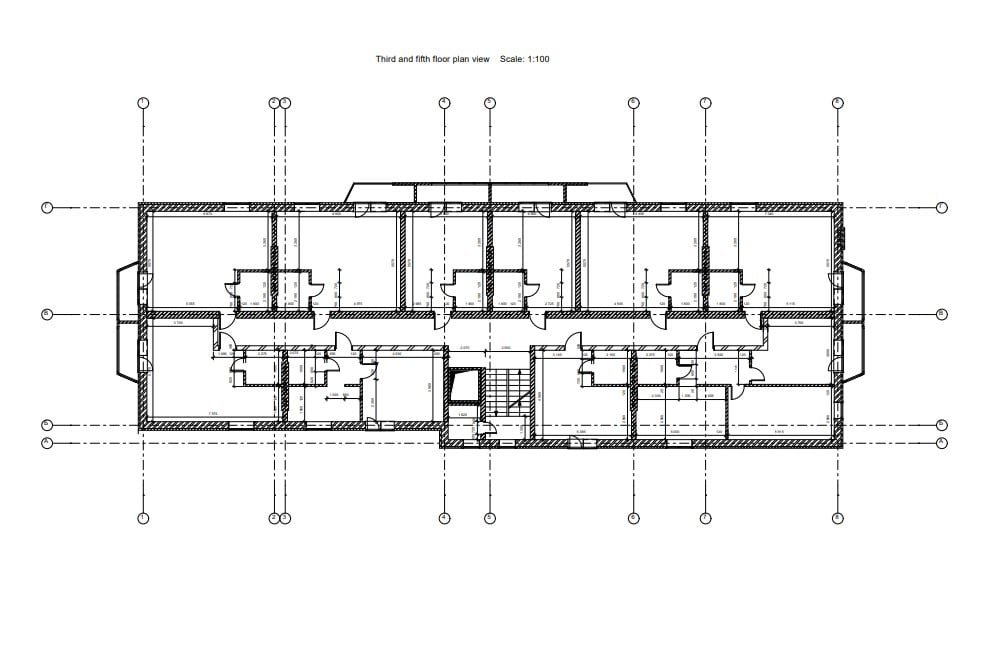 Floor plans demonstrate the inner structure and layouts of a building. They include a scheme of walls, windows and doors, as well as stairs and elevator shafts. Most often, sanitary zones are also indicated, namely, sinks, bathtubs, showers, and toilets. In architectural CAD drafting, real estate floor plans are available with furniture layout or without it, black-and-white or colorful, top view or 45-degree angle. Moreover, CAD drawings for construction indicate load-bearing walls, mounting and dismantling layouts, and various partitions.
Need top-notch CAD drafting services? We'll take care of drawings creation, digitalization, BIM and Revit modeling.
#3. Elevation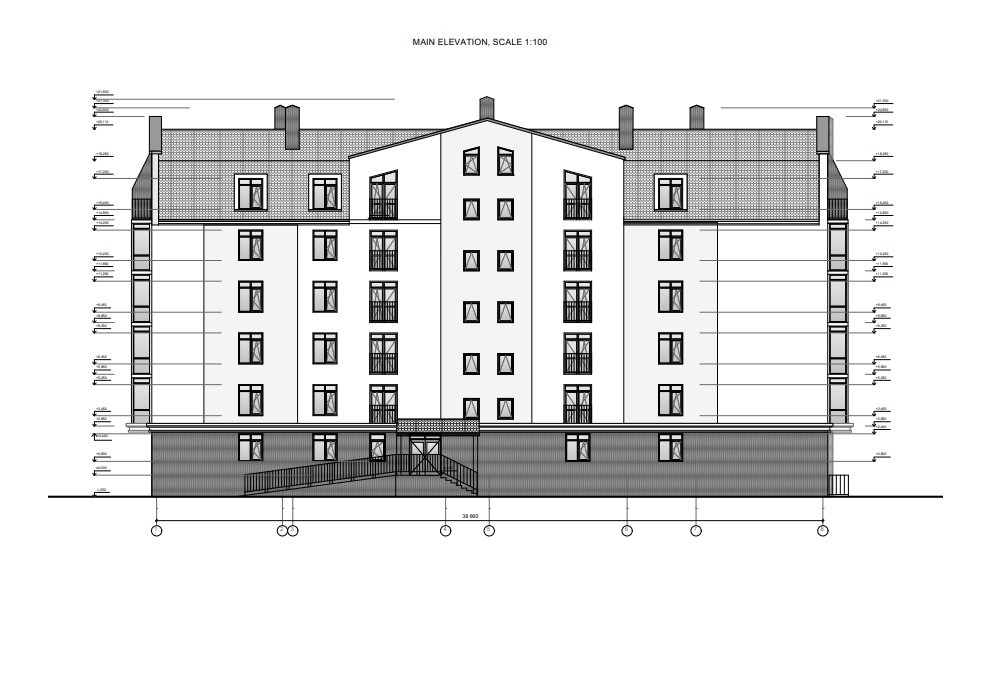 Architectural CAD drafting services provide an elevation view, which is a vertical projection of the building from one side. Simply put, this type of drawing portrays a construction as a single facade. As a rule, the elevation is done in four directions – north, south, east, west, i.e., front, back and two side views of the building. For example, the south elevation means the south-facing facade of the construction. This type of architectural CAD drafting services is all about details and realistic style so that viewers could understand exterior design better.   
#4. Cross Section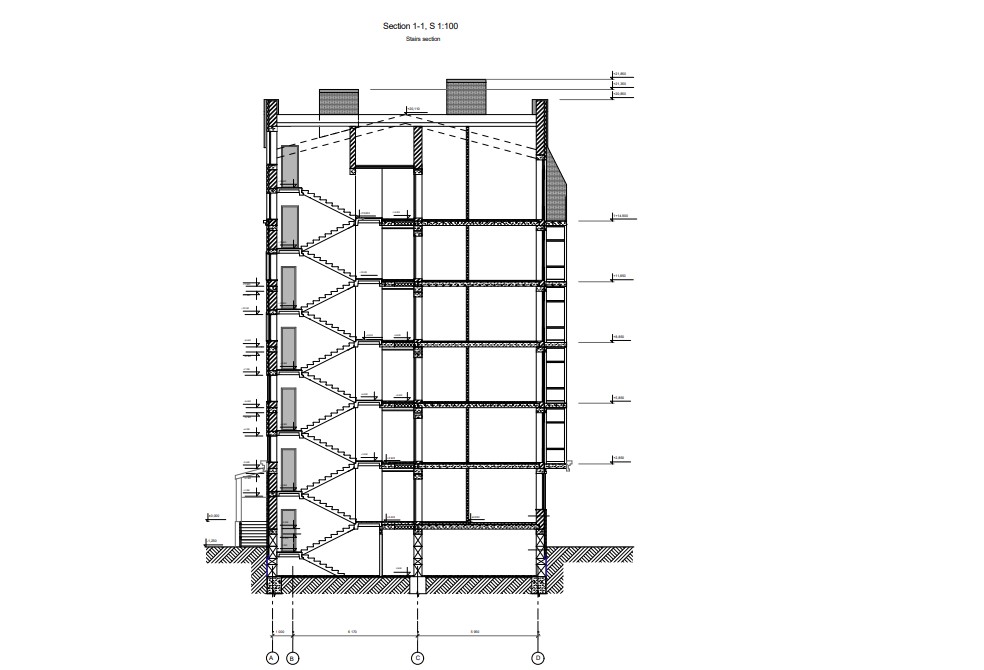 Cross section is a drawing that demonstrates the sectional construction of the building. In architectural CAD drafting services, it's often called a section view as it shows cut-out version of a building. This draft gives an idea of the space and structure inside a property in detail from front or side angle. On top of that, cross section demonstrates the connections between the various parts of the building and its premises, which may not be visible in the top view drawings. 
#5. Detail Drawings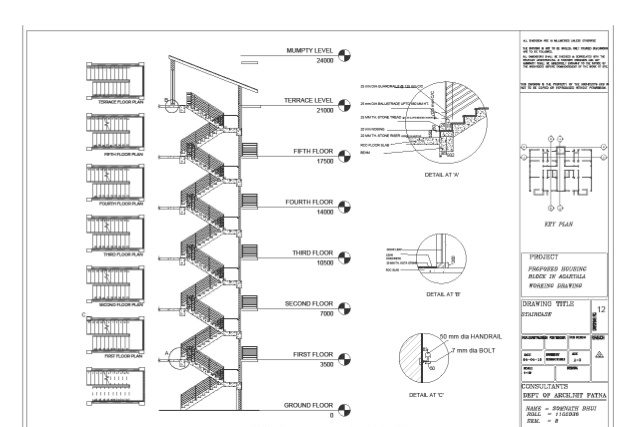 Detail drawings show a small part of the architectural design on a large scale. Most often they are used to display intricate elements of the exterior surfaces, for example, decor or connection parts such as floor to wall joints, window openings, eaves, roof apexes, etc. These small details are not visible in general plans but essential for contractors who will implement the Architect's ideas. Usually, architectural CAD drafting services offer typical scales for detail drafts, which are 1/10, ⅕, and full size. Besides, the details themselves have to be displayed on a plan view, a section drawing as well an isometric three-dimensional draft.
Architectural CAD drafting services offer all the necessary types of drafts but also make them more accurate and technically detailed than traditional hand drawings. They allow developing a project fast and implementing the construction smoothly. Moreover, the visual part of 2D drafts is clearer for non-professionals as well as more appealing. Thanks to that, Architects will be able to use them for explaining the tasks to the contractors as well a showcase their ideas to clients at project presentations. 
Wonder how much high-quality drafting services cost? Check out the examples of our real projects with pricing.
Want your architectural projects to be completed without a single error or inaccuracy? Use ArchiCGI drafting services and get all the necessary CAD drawings of the highest quality.
https://drawings.archicgi.com/wp-content/uploads/2019/07/architectural-cad-drafting-services-types-preview.jpg
177
364
vysotskaya
https://drawings.archicgi.com/wp-content/uploads/2020/04/archicgi-logotype-white-e1586786914130.png
vysotskaya
2019-07-09 16:30:21
2020-04-17 10:09:58
ARCHITECTURAL CAD DRAFTING SERVICES: 5 BASIC TYPES OF 2D DRAFTS